The Derry City and Strabane maintained section of the IAT Ulster-Ireland picks up walkers as they cross over Kelly's Bridge before passing walkers over to Fermanagh and Omagh Council and Mid Ulster Council before picking up walkers again at the beautiful Glenshane Forest. Walkers are in for a treat as they explore this section of the trail.
Kelly's Bridge
Walker's crossing from Donegal into Northern Ireland will do so by walking over Kelly's Bridge a rather humble looking bridge marking the border point between the Republic of Ireland and Northern Ireland. A sign nearby will explain more about his location and the history of the area.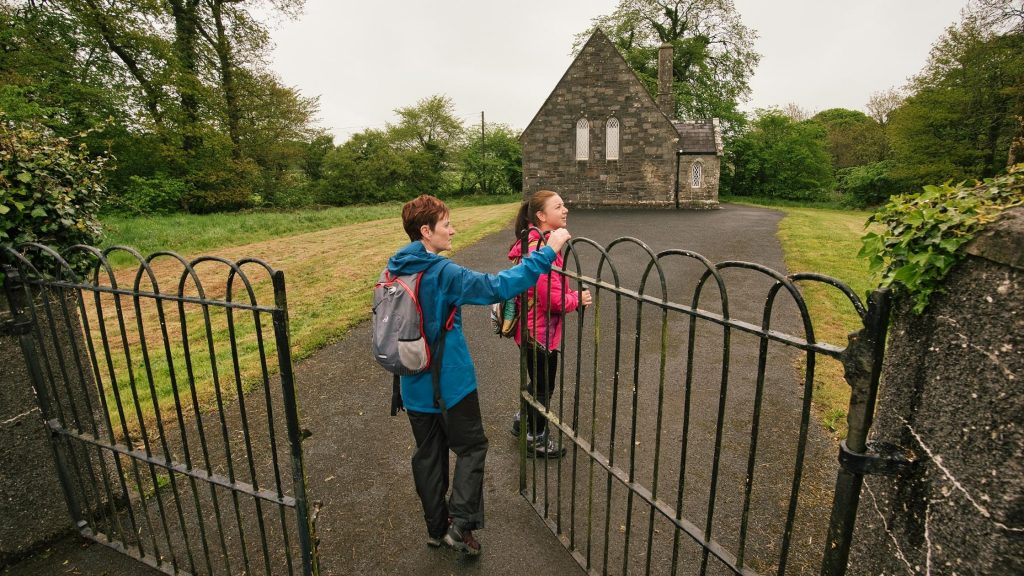 Killeter Village
Killeter, in Irish Coill Íochtair, meaning Lower Wood, sits mainly in the townland of Crilly's Hill. This is part of the ancient Parish of Termonamongan. On 29th April 1844 an event in Killeter made the national newspapers. The sound of detonations was followed by a meteorite, falling as a shower of stones. It was reported locally that;
"About four minutes after this, a strange-looking small cloud was seen to sail from the south-east, which attracted much attention from its unusual appearance. In a moment it seemed to burst and volumes of smoke to issue from it, followed instantaneously by a very extraordinary noise, somewhat resembling the rattling of carts on a newly-made road."
A total mass of 140g was recovered. The Killeter meteorite is classified as a veined chondritic meteorite meaning it has a high iron content and distinct chondrules (olivine and pyroxene mainly). Chondrules are thought to have formed from the condensation of hot gases in the solar system around 4.6 billion years ago.
Years later advertisements were still appearing in the press from mineralogists seeking specimens of the Killeter meteorite. A sample can be found in the Natural History Museum in London.
Key things to look out for in the village are the Heritage Centre, St Bestius' Church and Killeter Bridge, dating from 1786.
Killeter Fair
Killeter Fair, immortalised in the song of the same name, is today an annual event which celebrates local heritage and the richness of rural life. The earliest fair was operating in the 1600's.  By the mid 1800's, to encourage sellers and buyers, the fair's tolls were abolished and premiums of £2 were placed on cattle, linen yarn and pigs.  Fairs took place on the 21st May, July, September and November.
"She stole my heart completely, boys, the truth I do declare, And the first place that I met her it was in Killeter Fair."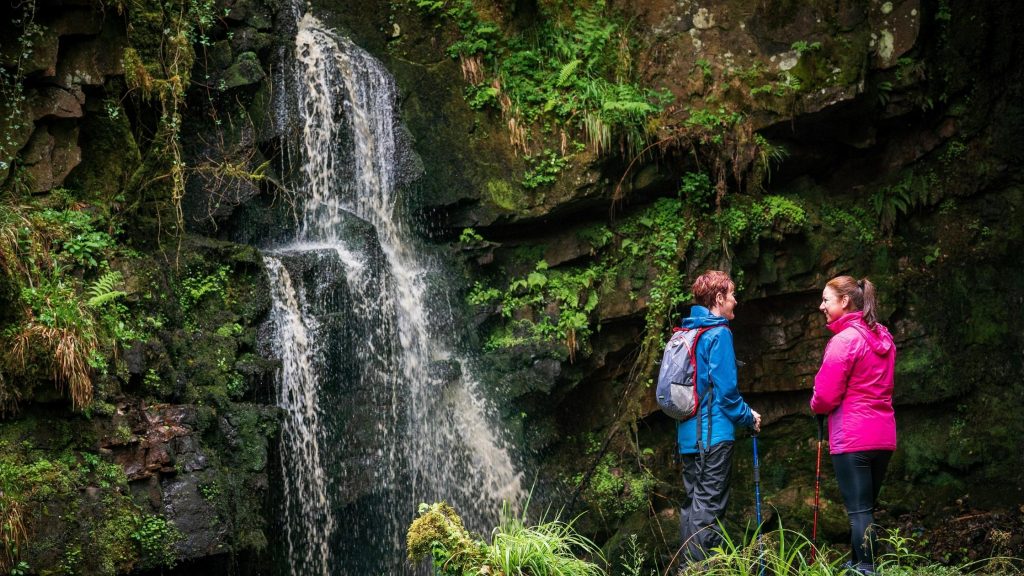 Sloughan Glen Springs and Waterfall, Co. Tyrone
For those exploring the section of trail between Killeter village and the Ulster American Folk Park we recommend taking a short diversion off the trail to explore the spectacular trail through woodland to Sloughan Glen Springs and Waterfall. The tumbling waterfall can be viewed from below and above on this enchanting 0.3-mile linear woodland walk. A short walk from the car park down a set of steps this hidden gem will be one of the highlights of your journey.

Gortmore Viewpoint & Manannán Mac Lir Statue, Co. Derry~Londonderry
Walkers exploring Binevenagh Gortmore Viewpoint situated on the Bishop's Road are likely to meet a legend of a different kind. The breath-taking views extend across to Donegal and the islands of Islay and Jura off the west coast of Scotland. The area has strong connections to the world-famous show Game of Thrones as the area was the filming location for the Dothraki Grasslands and the iconic 9ft high statue of Manannán Mac Lir created by sculptor John Sutton, who has worked on Game of Thrones. Manannán Mac Lir ("son of the sea") is a warrior and king of the otherworld in Irish mythology who is associated with the sea and often interpreted as a sea god. In modern tales, he is said to own a self-navigating boat named Sguaba Tuinne ("Wave-sweeper") and deadly strength-sapping sword named Fragarach.
This really is just a snapshot of some of the wonderful places you can explore on foot in Derry City and Strabane when you follow the IAT Ulster-Ireland route. Share your own discoveries along this epic trail with us on social media using #IATUlsterIreland.