The International Appalachian Trail Ulster-Ireland boasts some of the most spectacular scenery in Ireland on its 279-mile coast to coast journey from the cliffs of Slieve League to the Port of Larne. Whether you are 'Through walking' the trail, visiting for a few days or exploring a short section of the trail in a couple of hours, we recommend checking out at least one of the four epic waterfalls on the route.
Assaranca Falls, Co. Donegal
Located 8km southeast of Ardar village near Maghera Strand you will find the wild Assaranca Falls (also known as Eas a' Ranca taking its name from the Gaelic word Eas which means waterfall). The waterfall is easily accessible as it is literally on the side of the road, so you can't miss it as your drive or walk past. There is plenty of room to pull over and park during the quieter seasons. The waterfall is impressive to visit at any time of the year but is best during or after rainfall. If you visit while there is heavy rain, you can see the water plummeting down over the hill into the streams below.

Sloughan Glen Springs and Waterfall, Co. Tyrone
For those exploring the section of trail between Killeter village and the Ulster American Folk Park we recommend taking a short diversion off the trail to explore the spectacular trail through woodland to Sloughan Glen Springs and Waterfall. The tumbling waterfall can be viewed from below and above on this enchanting 0.3-mile linear woodland walk. A short walk from the car park down a set of steps this hidden gem will be one of the highlights of your journey.
Find out more about this walk on WalkNI: https://walkni.com/walks/sloughan-glen/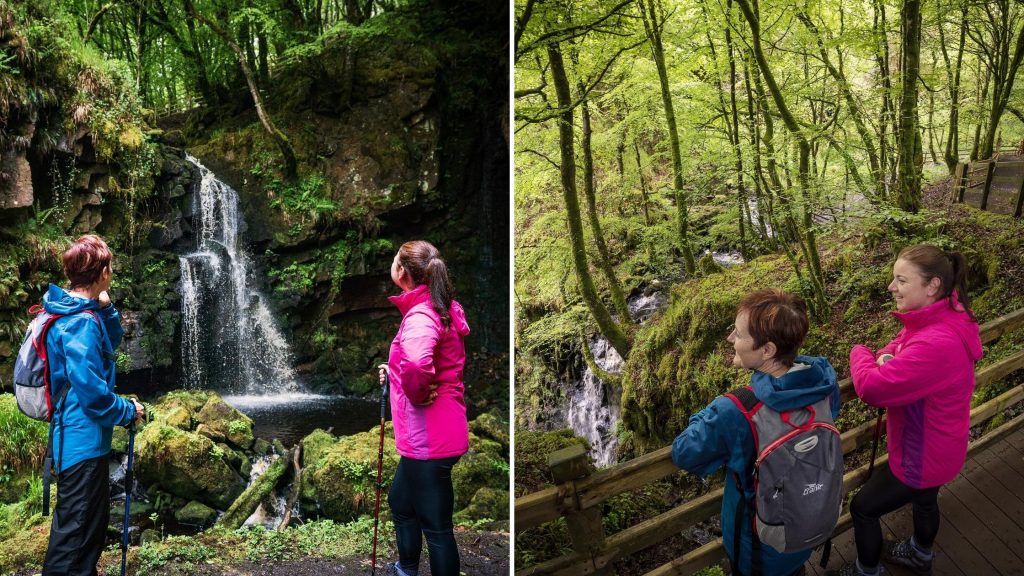 Pollan Waterfall, Co. Tyrone
This pleasant and rewarding trail follows up the course of the Pollan Burn as it tumbles down the mountainside through Gortin Glen Forest Park. Stop, for a few minutes at the waterfall and enjoy the beauty that centuries of water have carved in the solid rock.
Find out more about this walk on WalkNI: https://walkni.com/walks/gortin-forest-pollan-trail/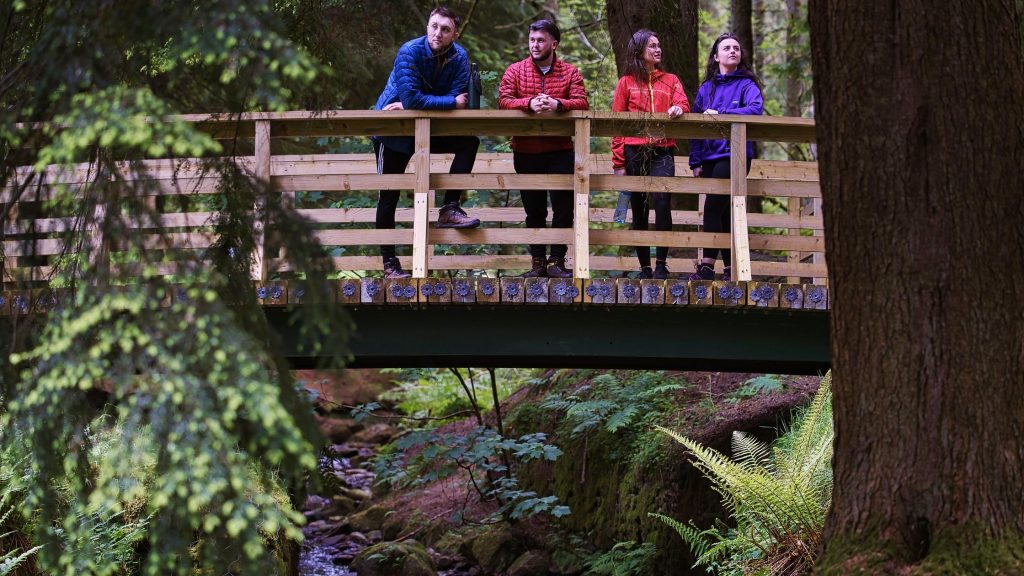 Glenariff Waterfalls, Co. Antrim
The astounding beauty of Glenariff Forest Park provides walkers with an abundance of panoramic landscapes, peaceful riverside walks and three spectacular and fast flowing waterfalls tumbling through rocky steep-sided gorges into tranquil pools. Situated among the world-famous Glens of Antrim, Glenariff – Queen of the Glens – that is considered to be the most beautiful of the nine Antrim Glens. The waterfalls can be reached via a series of steps. Please note: there is a steep climb back to the car park so a good level of fitness is recommend. There are also lots of other fantastic walking trails to explore in Glenariff Forest Park.
Find out more about this walk on WalkNI: https://walkni.com/walks/glenariff-nature-reserve-waterfalls-walk/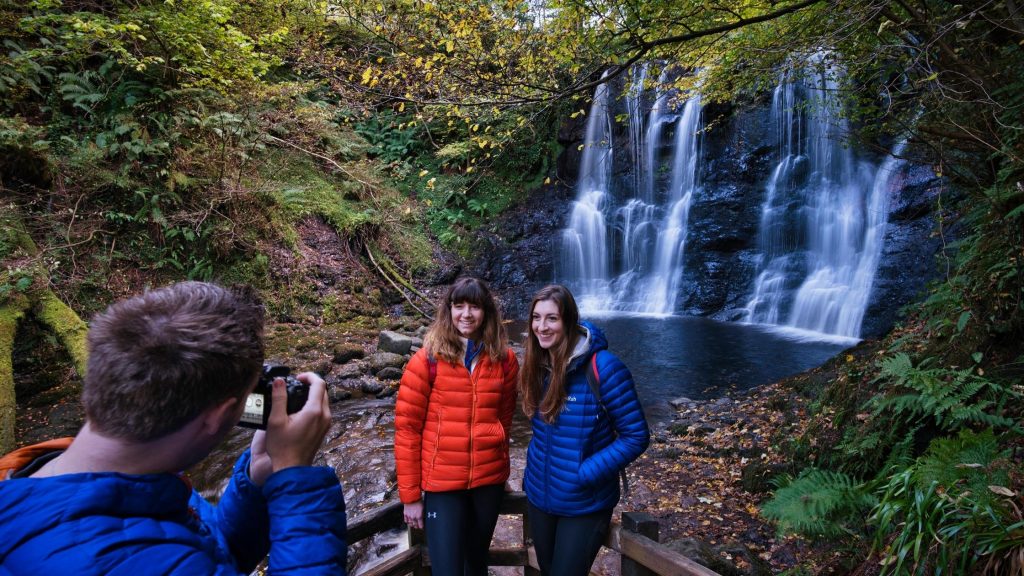 Pose for your picture in front of the waterfalls and tag us on social media using #IATUlsterIreland
Have a go: Forest bathing at the foot of the waterfall.
No this doesn't mean getting in for a swim! Forest bathing is a Japanese practice of relaxation; known in Japan as shinrin yoku. The simple method of being calm and quiet, observing nature around you whilst breathing deeply can help both adults and children de-stress and boost health and wellbeing in a natural way. Turn off your devices to give yourself the best chance of relaxing, being mindful and enjoying a sensory nature-based experience.