Essentials / Gear
We recommend you carry everything you need including waterproof jacket and trousers, a complete change of clothing, first aid kit, map, compass, directions, food and water. The beauty of the IAT Ulster-Ireland is that it does pass through a number of towns and villages so there is plenty of opportunities to stock up on supplies. However, some sections are very rural so again good preparation is key. The route is long and not always on paths so sections can be quite muddy and over uneven terrain therefore a good pair of walking boots are essential. We recommend wearing high visibility clothing to be safe.
When to Visit
The IAT Ulster-Ireland can be explored at any time of year however, some areas will be more challenging in the winter and autumn months. Walkers should also be aware that natural beauty spots such as Sliabh Liag and the Giant's Causeway can be extremely busy in the summer months.
Planning your Trip
For those completing the IAT Ulster-Ireland in its entirety or exploring large sections over multiple days it is a good idea to plan where you will stop each day so you can arrange appropriate transport and accommodation. It is a good idea to check public transport times and have a list of taxi numbers on hand so you can book in advance. A popular option is to drive to the start and get a taxi back to the car. A seasonal rambler service operates along the Causeway Coast.
There are many B&B, hostels, campsites and hotels close to the trail however, accommodation is limited in some rural sections.  You can find accommodation on the Long Distance Walk page.
Mountaineering Ireland have put together a Happy Hiking leaflet with useful advice for planning your walk which includes what to bring with you, getting a weather forecast and who to call in an emergency.
Leave No Trace
Please remember to practice the seven principles of 'Leave No Trace' when enjoying the outdoors to minimise your impact on the environment.
Plan Ahead and Prepare
Be Considerate of Others
Respect Farm Animals and Wildlife
Travel and Camp on Durable Ground
Leave What You Find
Dispose of Waste Properly
Minimise the Effects of Fire
For more information, visit www.leavenotraceireland.org
Dogs
If planning on walking with your dog, please note the changing policies on dogs in the 'Route Descriptions' on the Suggested Itineraries page. Be aware that in many instances there is a policy that dogs must be kept on a lead, particularly near farmland.
Visitor Information Centres
The Visitor Information Centres close to the route have been grouped according to the brown areas on the map below to help you work out which centre to contact depending on what part of the trail you want to visit.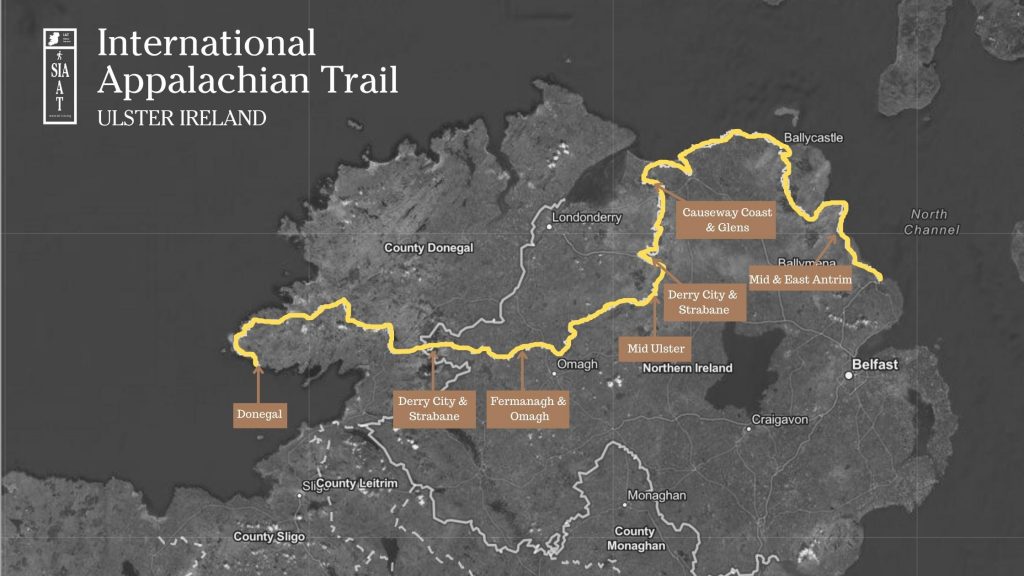 Useful Links
Ulster Way Long Distance Walking Trail
The IAT Ulster-Ireland follows the western, northern and part of the eastern sections of the Ulster Way. This is the longest distance walking route in Northern Ireland and totals 636 miles (1, 024km) which encircles Northern Ireland, taking in the six counties and some of the best walking destinations including the majestic Mourne Mountains, rugged cliffs of the Causeway Coast and wide-open spaces of the Sperrins. For more information on the Ulster Way visit WalkNI.com/ulster-way